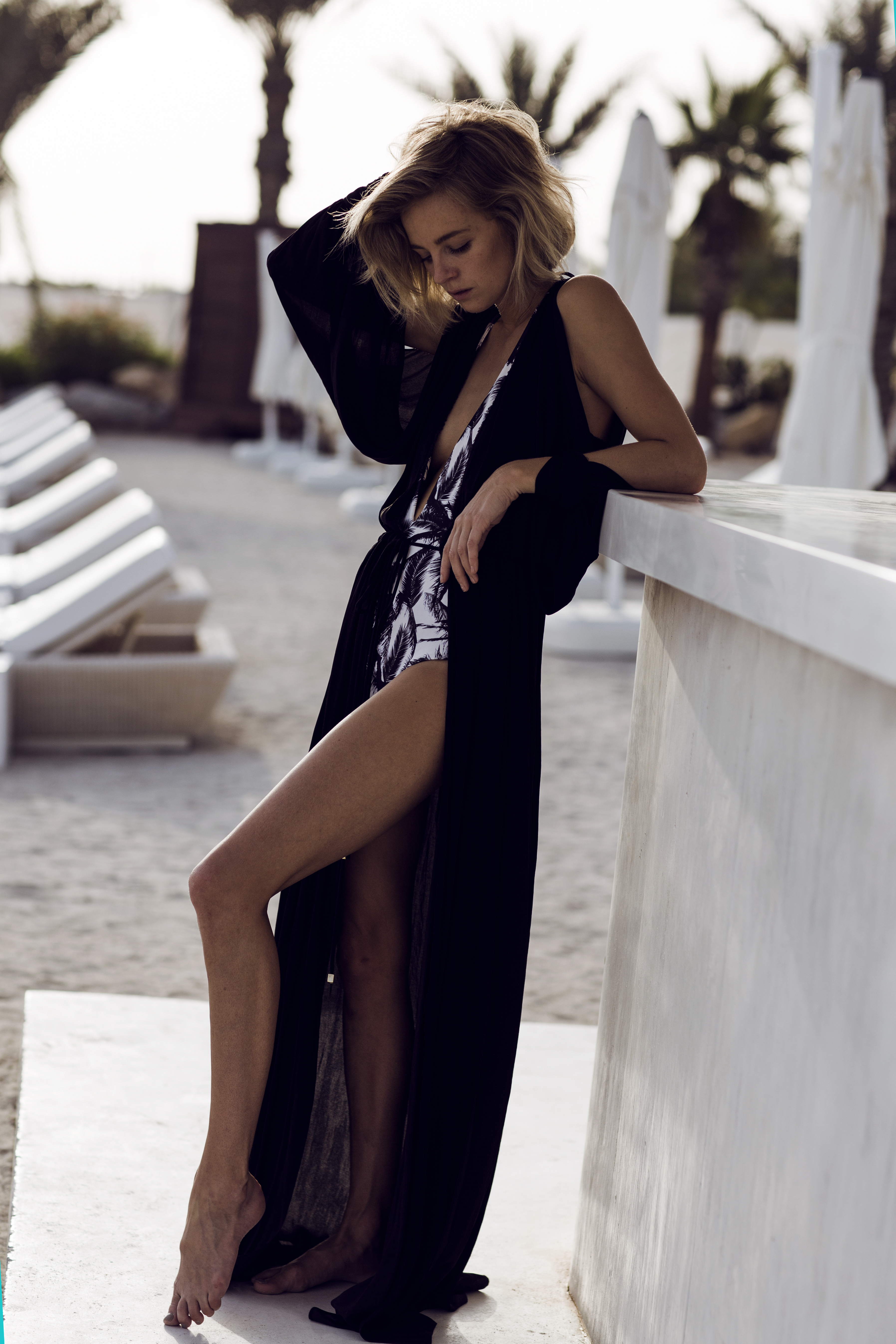 Yep – you've been looking forward to it all year long. Finally the time as come to pack your bags and head on a holiday! For some reason on my most recent "Vay-Cays" I have been seeing a lot of gorgeous girls practically drowning themselves in brights, graphic prints and heavily coloured florals. There simply is no need.
If your typical wardrobe is cumbersome with monochrome there is no reason to have an identity crisis. When on holiday you should be feeling ultra comfortable and able to embrace your serene environment. Opt for airy styles in black and white, and DO NOT forget to pack my most loved item of the season – THE ONE PEICE! When you are two Piña Coladas deep, you will thank me.
Be assured that bling at the beach (or pool) is totally OK – in fact, it is brilliant!
PHOTOS by Zanita Whittington, Shot on location at Eden Beach Club in Dubai.
Image 1: Bec and Bridge shifting sands kaftan, MIKOH Hinano swimsuit
Image 2:  Manning Cartell Dress
Image 3 & 4: Fella Swimsuit, Christie Nicolaides earrings
Image 5: Fella Danny Swimsuit 
Catch all the action of our Dubai trip on Fashion Bloggers, Tonight @ 9.30pm on E!  
I must admit, I have been on some pretty magical holiday / work trips in recent months but Dubai was certainly up there with my top 3 trips. I was sent on a delightful adventure with My Katie, Zee and Sara, It was beyond special! Thank you to the team and all the wonderful people who looked after us including Qantas, Anantara Duabi, The Palm. Per Aquum, Desert Palm  and of course the team at Dubai Tourism. TRULY MARVELOUS – Grab your girls and get packing!